This is first guest post in my blog and also the post after a long time as we shifted house and haven't set up my kitchen yet and running behind my baby girl the whole day. Coming back to the recipe, this set dosa is from my blogger friend Kalyani Balaji,  author of kitchen Kathukutty. She always inspire me with the importance for healthy cooking without adding white devils like maida, sugar and milk. Don't forget to check her blog Kitchen Kathukutty.  Let's proceed to her recipe…
A guest post for a sweet blogger I have known in my blogging journey.Thank you Swathy and it feels really great to post a recipe in your space.I love the innovative recipes she keeps posting with a touch of tradition.Wishing Shravs Kitchen a great journey ahead.
Ingredients:
Idly Rice-1 cup
Raw rice-1/2 cup
Sago/Javvarisi/Sabudhana-1/4 cup
Poha/Aval/Flattened rice-1/4 cup
Fenugreek seeds-1 tbsp
Black urad dhal(split)-1/2 cup
Salt-To taste
Oil-To cook
Procedure:
1.Wash and rinse Idly rice,raw rice,sago,black urad dhal,fenu greek seeds well.
2.Soak them together for 5-6 hours.
3.When you are about to add the soaked ingredients to the grinder,wash poha/aval in running water.
4.Completely drain the water from poha.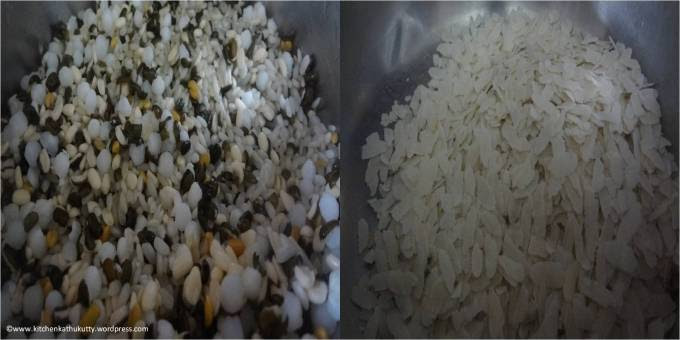 5.Ensure that poha has turned soft.
6.Now add all ingredients to the grinder and make a smooth batter.Sprinkle water in small quantities while grinding.
7.Let it ferment overnight or 8 hours.
8.The batter would risen with pores.
9.Mix well and add salt.
10.Grease a dosa pan with oil and then spread the batter with a ladle.
11.Sprinkle oil,close and cook in medium flame.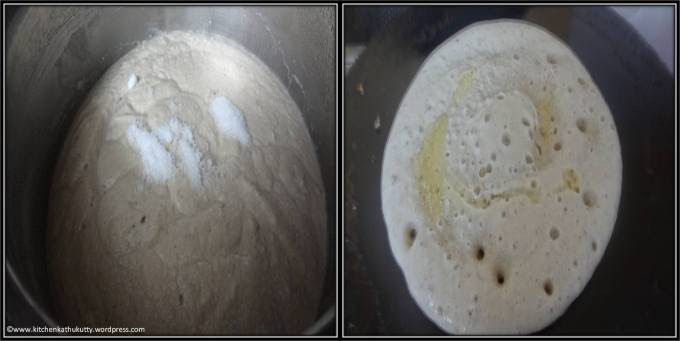 12.Do not flip.
13.Serve it hot with VADACURRY(Recipe on the way dears :))
Melting super soft fluffy set dosa/sponge dosa is ready.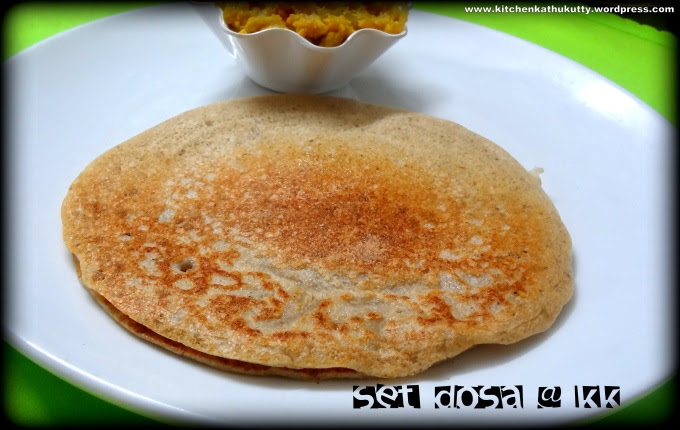 ---
P.S:
Do not add much water while grinding.
The batter will be smooth and in non pouring consistency after fermentation.
Do not store the batter for more than a day or two.It would turn too sour.
You can use brown rice and red rice flakes to make it extremely nutritious.
Do not spread the batter much .It has to be small and slightly thick.
You can use whole black urad dhal too.In that case soak it separately for 8 hours.
This has to be cooked only one side by closing with a lid.
Prefer thick poha/aval variety.
Thick Red poha needs some 15 minutes soaking time.Other varieties just be washed and added.
Do not add salt if your baby is less than one year
Always have a word with pediatrician before trying any new food.